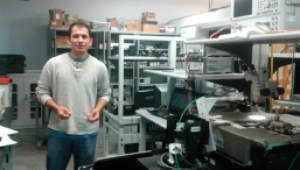 Faculty:
Faculty of Eng. & Natural Sci.
Outstanding achievement of our graduate in the 5G technology...
The company SpectraBeam, founded by Sabancı University Electronic Engineering 2009 bachelor's and 2011 master's graduate Samet Zihir to work on T/R front-ends for 5G and Satcom satellite connectivity systems, was acquired by Integrated Device Technologies (IDT), a leading company in the industry.
Saying that "The key to my success is my professors and the education I received at Sabancı," Samet Zihir began working on Phased Arrays during his 4th year. Zihir completed his master's degree on X-Band Phased Array PA design with FENS Faculty Member Yaşar Gürbüz.  Zihir said, "The groundwork laid at Sabancı prepared me for this venture and accompanying success."
We asked Samet Zihir to talk about SpectraBeam's  5G and Satcom radar systems services, and their key difference from 4G.
Samet Zihir: 4G is the standard connection speed in Turkey and most of the world. A 4G (4th Generation) connection is capable of rates up to 500MBps, and we are already close to its limits. We are now working on upgrading to the 5G (5th Generation) standard. The main difference between 5G and 4G is the use of new transmisssion techniques. One of them is the "phased-array" or "beamformer", which can electronically change the direction of the signal received by the device. This is different from 4G because it allows us to replace the omnidirectional antennae found in today's mobile devices. By sending and receiving signals from one direction only, we will be able to achieve connection rates up to 10GBps.
The systems that we develop provide the infrastructure for the new "phased array" technology. A technology that had been confined to military radar systems until now has suddenly become popular. Our products are intended for the circuitry in cellular towers rather than the devices themselves. The systems used in mobile phones are too complex and comprehensive to develop on a small scale, and can only be supplied by a handful of companies like Qualcomm, Intel and Samsung, which employ thousands of engineers. But since cellular tower complexity is of a level that we can handle, we have greater potential in this area.
GazeteSU: What changes will the 5G standard bring?
Cell towers used to be few and far between until now, but their numbers need to be multiplied by 10 to send and receive at the high-frequency 5G standard. This is a huge growth potential for the market. We will also be able to replace our current satellite dishes with flat panels that are also capable of establishing electronic satellite connections. The greatest benefit is that we will be able to eliminate satellite dishes, which need to be very large and have serious mechanical and motor issues, and use panels that can be fixed on walls or car roofs instead. The clutter of satellite dishes will be gone, and in their place will be flat panels that are 40 by 40 cm at the largest, which will improve esthetics. Also gone will be the difficulty and precision with which satellite dishes need to be positioned now, since the panels will receive direction information electronically.

People want internet connectivity during their flights, and it will be much less expensive and intrusive to place these panels on commercial aircraft.  A video-based website (//www.phasorsolutions.com) has more information about this. Phasor Solution is a panel manufacturer, and our company supplies them with the chips that provide amplification and connection inside the panels.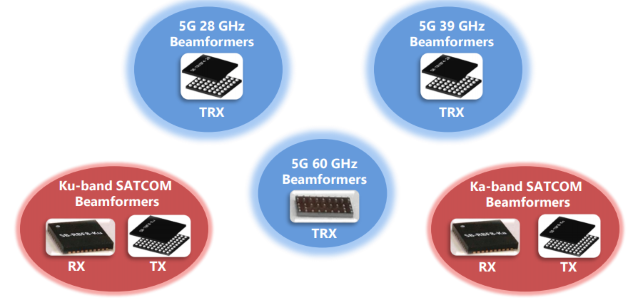 The Satcom market is closer to us compared to 5G, and we are talking about a cumulative size of billions of dollars. The majority of this market will be occupied by Ku and Ka Band Satcom. These are used mostly by satellite panels on aircraft, yachts and coaches.
GazeteSU: How did you start SpectraBeam and begin your work on 5G?
We started this company in Turkey in 2014. My business partner Tumay Kanar and I founded a company called TMS Mikrosistem and received tech-based venture support from the Ministry of Industry. We contacted some Turkish companies, including Aselsan, for circuitry design, but we couldn't find enough support.
Then we tried it once again, in the US, and founded SpectraBeam.  We worked on our company while we were doing postdoctoral research at UCSD, and we were successful. Companies in the US lent us more support and attention.
GazeteSU: Why did you choose IDT among potential buyers?  
There were a few buyers interested in our company and we chose IDT for a number of reasons. Chief among them are IDT having an office in San Diego, where our company is located; their investments in 5G and Satcom, and most important of them all, the way in which the company does business, and the size of their workspace and support. As a member of IDT now, we are greatly satisfied with the choice we made and we do our best to improve our products and market them as soon as possible. This is a new and developing area, so there are not too many companies.  There have been several startups in the past year or two, but I think there is more to go. We saw an opportunity and acted to fill the void. Our company enabled IDT to make a fast entry into this area and skip a year or two of research and design.
We commend our graduate for her achievements and wish him more success in the future.
SU Alumni Office
02164839352
alumni@sabanciuniv.edu