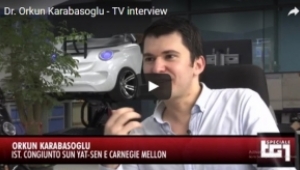 Faculty:
Faculty of Eng. & Natural Sci.
Our graduate Orkun Karabaşoğlu, (Mechatronics Engineering, 2008 - MA) discussed electric vehicles, energy systems, and his lab on the subject in a documentary broadcast on the Italian national TV station RAI.
About Orkun Karabaşoğlu
Following his studies at Sabancı University, Orkun Karabaşoğlu obtained his master's and PhD degrees from Carnegie Mellon University (CMU) in 2013, and worked as a postdoctoral researcher at Massachusetts Institute of Technology. He is currently a fellow of the Engineering Institute cofounded by CMU and SYSU, and is the director of his own lab, the Smart Vehicles and Energy Systems Laboratory. Orkun, who says that education at Sabancı University played a key part in shaping his academic life, is among Turkey's first mechatronic engineers to advise automobile and battery companies in the US and China within university-industry partnerships, and holds 5 engineering diplomas from 4 universities on 3 continents.  He was the valedictorian of his undergraduate program.
His work includes lifecycle cost and emission analyses for alternative fuel vehicles, innovative navigation algorithms for electric cars, intelligent communication platforms for charging stations and electric cars, and algorithms for more accurate prediction of charge status in electric car batteries that age by use. Although he is currently abroad, Karabaşoğlu says that he intends to return to Turkey in the future, and has sponsored a number of undergraduate and graduate students from Sabancı University, ITU and Kocaeli University during his work in CMU and MIT, helping their education.
His work has been covered by numerous media outlets including Bloomberg, Reuters, Fox42 News, Green Car Congress, Environmental Leader, The Wall Street Journal and EV World.  Most recently, Orkun Karabaşoğlu spoke in a documentary broadcast on Italian national TV station RAI, where he discussed electric vehicles and provided information about his lab.
We commend our graduate for her achievements and wish him more success in the future.
SU Alumni Office
02164839352
alumni@sabanciuniv.edu