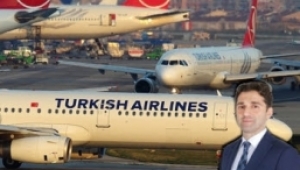 Faculty:
Faculty of Arts & Social Sci.
Our Economics Master's (2002) Graduate Murat Şeker is inducted to Deputy Director-General of Finance Department of Turkish Airlines (THY).
Who is Murat Şeker?
Murat Şeker graduated from Marmara University Department of Industrial Engineering in 2000 . Şeker got his master's degree in Economics from Sabancı University in 2002 and his doctorates degree in Economics from  Minnesota University in the United States of America in 2008.
A lecturer of "Economic growth and development", "money and banking", "public finance" areas, Şeker worked as an analyst at the Entrepreneurship Research Department under Financial and Private Sector Development of the World Bank in the USA between 2008-2011. He also worked as an economist at the Innovation and Entrepreneurship Department under the Vice Presidency of the World Bank again between 2011-2013.
After returning to Turkey in  December 2013, he  worked  as Head of Investor Relations Department of Ziraat Bankası and  continued his duty as Head of Financial Institutions and Investor Relations Department since August 2014.
Carrying on his duty as a member of board in Ziraat Investment, Life and Retirement, Ziraat Insurance Companies within Ziraat Bankası, Şeker also continues his academic studies alongside his business life.
Şeker is working as a part-time lecturer in Boğaziçi University Faculty of Economics and Administrative Sciences since 2015.

We commend our graduate for her achievements and wish him more success in the future.
SU Alumni Office
+902164839352
alumni@sabanciuniv.edu