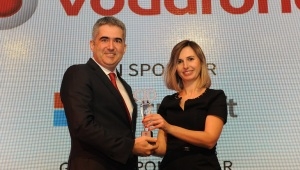 Faculty:
Faculty of Eng. & Natural Sci.
Information Technology master's program 2013 graduate Kadir Sığınmış won the CIO Award with the HEAT "Hewin" project under his leadership.
The CIO Awards were given in Turkey for the 6th time this year to recognize technology leaders who have led and implemented projects that added value to their respective institutions.  Our graduate Sığınmış is a Director of Information Technology in HEAT, and won the prize with the HEWIN project designed as a waste management solution.
Expressing his pride in being a Sabancı graduate, Sığınmış thanked Dr. H. Sait Ölmez and all Information Technology graduate program professors for their contribution and said the following about the CIO Awards: "We are here thanks to a harmonious team composed of 26 young and dynamic members. Our success is backed by teamwork. We are proud to have won the CIO Award for the HEWIN waste management project, which is the result of our dedicated and meticulous work. Waste disposal is becoming more and more important in Turkey and the world. Despite rapid development, there is no comprehensive solid waste management software. Our product is an innovative application that regulates and provides administrative improvements to all work processes in municipalities, municipality unions and companies. This prize shows us once more that we are on the right path. I would like to express my gratitude to our executive management, all business partners and our project team for their contribution and invaluable efforts."
Please click here for Milliyet's coverage of CIO Awards (in Turkish).
About Kadir Sığınmış:
Sığınmış is a graduate of the Sabancı University Information Technology master's program and has been working in the IT sector for over 20 years. Sığınmış began his career in the IT department of the Turkish automotive manufacuter Tofaş, where he visited 187 Tofaş dealers and authorized service centers in 54 provinces in Turkey, installing and commissioning online system infrastructure, licensing and service setup. In 2001, Sığınmış acquired an MCSE (Microsoft Certified Systems Engineer) early success certificate and received training in Italy for the system integration work among Tofaş Oto Ticaret A.Ş., Fiat-Italy and Tofaş dealers. After 10 years in Tofaş, he joined Hexagon Consultancy in 2005 as the Information Technologies Manager. He was appointed as Director of Information Technologies to HEAT, a Hexagon affiliate founded in 2013. Sığınmış is a member of the Sabancı University Alumni Association, the Informatics Society of Turkey, and the Ocean Yacht Racing Club of Turkey. 
We commend our graduate for his achievements and wish him more success in the future.
Alumni Relations Office
01264839352
alumni@sabanciuniv.edu