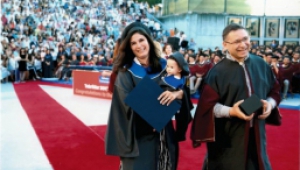 Faculty:
Faculty of Eng. & Natural Sci.
Program:
Computer Science and Engineering
2007 Telecommunications Engineering undergraduate, 2009 Computer Science and Engineering master's and 2017 Computer Science and Engineering PhD graduate and visiting faculty member Duygu Karaoğlan Altop won the inaugural "Cyber Security Doctorate and Graduate Dissertation Prize" given in association with the Public Cyber Security Society.
Duygu won the prize with her dissertation under advisor Professor Albert Levi on Security for Body Area Networks. In her recent dissertation defense, Duygu emphasized the importance of security among the sensor nodes that receive, store and communicate sensitive personal information, highlighting an example where a hijacking the EKG signal of a cardiac pacemaker can allow perpetrators to give an electic shock to the wearer of the pacemaker. Altop said that not only could these devices be targeted for attacks, but also could compromise the security of personal information.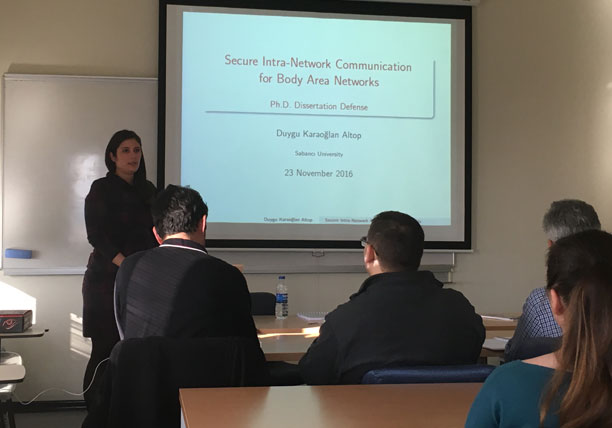 We spoke to Duygu about the intricacies of personal information security and her award-winning research.
Can you briefly discuss your dissertation?
The title of my dissertation is "Secure Intra-Network Communications for Body Area Networks". Body Area Networks use widely-available communication techniques to enable real-time, continuous and remote monitoring of an individual's health. 
What was the system you developed?
Using wearable sensors, these networks monitor the vital signs of their users without disrupting their daily lives. Since these sensors collect sensitive medical data about individuals and transmit them over wireless networks, their security is critical. But the security capabilities of these sensors is quite low unlike our phones or computers, so the methods used in other applications cannot be used here, and system-specific models are required. We developed a system where sensors can generate cryptographic keys from physiological signs that they monitor, such as EKG, blood pressure and pulse rate.
In other words, the keys that encrypt the communication among sensors that measure physiological signs were created out of the very signs they measured.  This eliminates the need for the user to remember a password, and creates a truly unique and personal encryption key. We discussed the results of our study in three conference papers and three journal articles.
What would you like to say about the prize you won?
I think it will motivate people who work in this area. I was happy and proud to be recognized by an important organization. My advisor, Professor Albert Levi, deserves much credit for his unwavering support throughout my studies.
Cybersecurity is a critical factor nowadays.  Is there anything you would like to say about this matter?
Cybersecurity is becoming increasingly popular lately. We should have been paying attention all along. With our extensive use of the virtual world, security has become a critical area. Concerns that had been overlooked in the beginning are slowly coming under the limelight. Universities are now addressing this issue, and here at Sabancı University, we are now accepting students to a non-dissertation master's program on cybersecurity.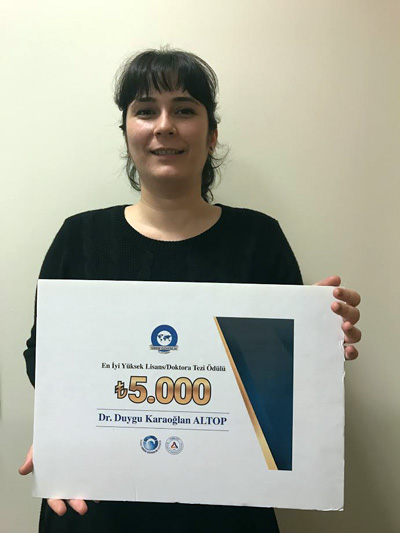 We commend our graduate for her achievements and wish her further success in the future.
SU Alumni Office
+902164839352
alumni@sabanciuniv.edu