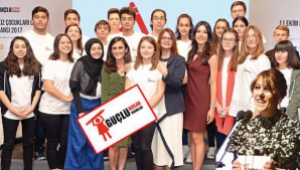 Faculty:
Faculty of Eng. & Natural Sci.
Program:
Materials Science and Nano Engineering
Materials Science and Engineering 2009 master's graduate Canan Dağdeviren spoke in the International Day of the Girl Child Conference held by the Aydın Doğan Foundation in association with UN, UNFPA, UNICEF and UN WOMEN.
According to the Hürriyet on October 11, 2017, Canan Dağdeviren gave one of the most moving speeches in the conference. The story covered Canan Dağdeviren and her speech as follows:
THE FUTURE LIES IN SCIENTIFIC AWARENESS
One of the most noteworthy speeches in the conference was by Dr. Canan Dağdeviren, who was named among "35 Innovators under 35" by MIT Technology Review in 2015, and one of the "Top 30 Scientists under 30" by Forbes. Dağdeviren, a graduate of Harvard followed by the Massachusetts Institute of Technology, said that science accepted people as they came with no preconditions, and knowledge was better when shared, like love or tolerance.  Dağdeviren continued: "When I decided to study physics, no one but my mom backed me up. Then, last year, I received an offer from MIT.  May I add that I hadn't applied? Now I visit universities in Anatolia and try to share my success. I believe that we need more awareness. My greatest goal is to contribute to training students who are like me, only much better than me."
We commend our graduate for her achievements and wish her further success in the future.
SU Alumni Relations Office
02164839352
alumni@sabanciuniv.edu