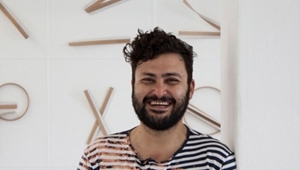 Faculty:
Faculty of Arts & Social Sci.
Program:
Visual Arts and Visual Communication Design
Our graduate (2004, Visual Arts and Communication Design, Master) artist and curator Misal Adnan Yildiz will select winners for the 2016 National Contemporary Art Award of New Zealand.
This year's first prize winner will receive NZD20,000 and the award exhibition will be on show at Waikato Museum from 3 September to 4 December 2016.
Our graduate Yıldız aims to examine how public imagination, social criticism and collective creativity are perceived in diverse cultural, political and social contexts. Endeavoring to merge his education in psychology with his passion for literature, Yıldız worked at various prestigious international curatorial and research programs and was a nominee for the ICI Independent Curatorial Vision Award in 2012.
In the summer of 2013 Yıldız realized the exhibition "A History of Inspiration" organized within the scope of Nouvelles Vagues at the Palais de Tokyo. During this time he also worked as a curatorial collaborator of the 13th İstanbul Biennial and was awarded the Curate Award 2014 together with Michael Wang and Evelyn Simonds.
The winner and merit award winners will be announced at a ceremony on 2 September 2016 at Waikato Museum, and the award exhibition will be on show at Waikato Museum from 3 September until 4 December 2016.
National Contemporary Art Award
Since 2000, New Zealand's National Contemporary Art Award has promoted and celebrated New Zealand's contemporary artists. Hosted by the Waikato Museum, the Award invites a new judge each year who in turn curates the final awards exhibition by choosing the winners. Past winners and judges have included:
Artist: Bronwyn Holloway-Smith; Judge: Aaron Kreisler, Head of School at Ilam School of Fine Arts, University of Canterbury
Artist: Deanna Dowling; Judge: Simon Rees, Director, Govett Brewster Art Gallery, New Plymouth, New Zealand
Artist: Locust Jones; Judge: Rachel Kent, Senior Curator of Art, Museum of Contemporary Art (MOCA), Sydney, Australia
As Waikato Museum Director Cherie Meecham states in the press release, the Award "has documented New Zealand contemporary art for 17 years and provides a platform for artists to show their work." While the Museum only took over administration of the Award in 2006, the final exhibition has always been held at their premises since the Award's inception in 2000.
2016 Judge: Misal Adnan Yıldız
Turkish artist and curator Misal Adnan Yıldız, current Director of Artspace New Zealand and former Artistic Director of Künstlerhaus Stuttgart Germany, will judge the 2016 edition of the Award.
Source: //artradarjournal.com/2016/04/22/new-zealands-national-art-award-ap...

We commend our graduate for his achievements and wish him further success in the future.
SU Alumni Office
02164839352
alumni@sabanciuniv.edu