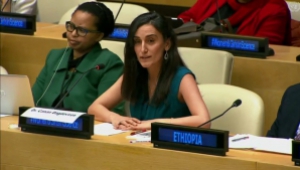 Faculty:
Faculty of Eng. & Natural Sci.
Program:
Materials Science and Nano Engineering
Canan Dağdeviren: "Doing science, in any field, is revolution!"
Materials Science and Engineering 2009 master's graduate Canan Dağdeviren spoke at the UN General Assembly on occasion of February 11, International Day of Women and Girls in Science.
Canan Dağdeviren was invited to make a speech at the third International Day of Women and Girls in Science, established by the United Nations in 2015 to increase the role of women and girls in science and encourage participation in STEM education and research at all levels, where she stated that her greatest influence on her successful journey in science was Atatürk, the founder of the Republic of Turkey, and his statement that "If one day science contradicts my words, then science must prevail."
Discussing her passion for science since early in her childhood, Dağdeviren said that she frequently visited Turkey to meet with children and teenagers to motivate them to take up scientific studies, and kept in touch with them over social media.
Click below to watch Canan's speech.
We commend our graduate for her achievements and wish her further success in the future.
SU Alumni Office
+902164839352
alumni@sabanciuniv.edu