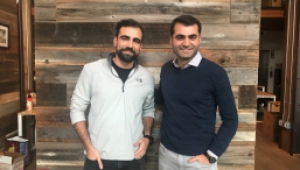 Faculty:
Faculty of Eng. & Natural Sci.
The company SORU.ai founded by Sabancı University Faculty of Engineering and Natural Sciences Manufacturing Systems Engineering 2010 graduate Emre Ertan and his partner in Silicon Valley was valued at 6 million dollars and received almost 500,000 dollars in investment. 
Emre Ertan answered our questions on his company and work.
GazeteSU: Can you talk about your company SORU.ai? When did you start, and what was your motive? What type of work do you do?
We founded SORU in July 2017 to help companies grow by automating data analyst tasks. You can think of SORU as a data analyst with artificial intelligence.
Our natural language processing interface enables our customers to use SORU as if speaking to a human, in their ordinary language. SORU collects company data from APIs in the background, and performs many tasks that require a business analyst automatically. It can compile regular sales, marketing and financial reports, and analyze habits to decide on what type of customers need to be targeted. In short, it is "Siri" on a corporate scale. 
Our product lets companies use their data much more effectively, increase sales, reduce costs, and do more work with fewer employees. Our objective is to automate all workload related to accessing and using company data, thereby increasing the efficiency and success rate of employees. We started to work with 5 pilot companies of various sizes in Silicon Valley. We are delighted by their positive comments.
For example, the senior marketing manager of our pilot customer Boosted Boards, Emily Boschwitz, said the following about SORU: "My operations team was impressed when I introduced them to SORU, and they are looking forward to using it. It's an incredible product. I want to thank the SORU team for making it work perfectly for us." 
GazeteSU: What are the benefits and solutions offered by SORU?
SORU enables employees in marketing, sales, finance, operations and customer service departments access company data in the easiest manner possible.
It saves time for business analysts who can work on tasks that create more value and become better at their work. At first, we can reduce the workload of analysts by 25 to 30%.
This in turn helps executive management make better-informed decisions. All of this translates to increased sales or reduced costs.
GazeteSU:  There must be a great number of startups like you.  What makes SORU different? Are you satisfied with the attention you received so far?  What was key to your success?
There are companies in business intelligence and data analytics, but so far no other company has adopted a similar approach to ours and attempted to automate business analyst tasks using artificial intelligence. This brings an entirely different perspective that we need on the brink of Industry 4.0.
We are delighted with the attention we receive in Silicon Valley. Our first round of investment was an astounding success, and interest was so enthusiastic that we had to turn some investors down, regrettably. Customer feedback is also great and we have started to sign pre-sale contracts. We were also admitted to Stanford University StartX, which is considered one of the most reputable startup accelerators in Silicon Valley. Thanks to their Silicon Valley network and mentors, we believe that StartX will play a major part in us securing further customers.
GazeteSU: Finally, can you tell us more about yourself and your business partner?
Emre Ertan: I am a graduate of Sabancı University Manufacturing Systems and Industrial Engineering. After a number of ventures and employment in Alcatel Lucent, I was admitted to the Stanford MBA program and moved to the US. After completing my MBA, I worked in Slice Technologies in Silicon Valley as "Head of Growth Marketing". I observed the issues analysts had during my time in Slice.
Then we started to think on this issue with my partner Ertan Doğrultan. We spoke to over 100 companies and saw that they were having similar issues, and we decided to found SORU based on their feedback.
My partner Ertan Doğrultan is a graduate of Boğaziçi University Computer Engineering who has a master's degree from UCLA in artificial intelligence and machine learning. Prior to SORU, he was a tech lead in the Google Assistant Project. While in Google, he led successful projects in artificial intelligence and natural language processing. Before that, he was the founding partner and CTO of another company working in data analytics. 
GazeteSU: Is there anything you wish to add?
We are overwhelmed with people's interest in our product, so we want to open an office in Turkey and add computer scientists to our team in the near future. Anyone interested can reach us on LinkedIn or at team@soru.ai.
We commend our graduate for his achievements and wish him further success in the future.
SU Alumni Office
902164839352
alumni@sabanciuniv.edu