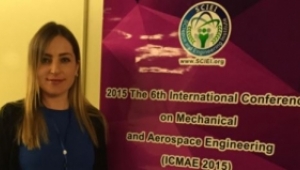 Faculty:
Faculty of Eng. & Natural Sci.
Program:
Materials Science and Nano Engineering
Materials Science and Engineering 2007 Master's Graduate and 2011 Phd Graduate Dr. Burcu Saner Okan participated in the 6th International Conference on Mechanical and Aerospace Engineering held in Roma, Italy between July 16-17, 2015. Her oral presentation entitled as "Fiber Reinforced Self-Healing Composites via Multi-Axial Electrospinning for Load Bearing Applications" has been selected as the best one of this conference in the field of Novel Materials and Processing Technology. 
Her Project is granted in the scope of Tubitak 1001 program and PhD Student Jamal Seyyed Monfared Zanjani, Assoc. Prof. Mehmet Yıldız and Prof. Dr. Yusuf Menceloglu contributed to this work.
We congratulate our graduate and wish her further success in the future.
Alumni Relations Office
02164839352