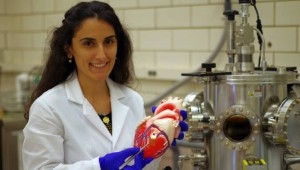 Faculty:
Faculty of Eng. & Natural Sci.
Program:
Materials Science and Nano Engineering
Materials Science and Engineering 2009 Master's Graduate Canan Dağdeviren celebrates yet another achievement.  Canan was named on the "30 Under 30" list of the best young scientists in the world compiled by Forbes magazine.
As the only Turkish scientist on the Forbes list, Canan implemented her award-winning "battery-free cardiac pacemaker" project last November.  The chip developed by Canan converts the kinetic energy of heartbeats to electricity, powering the pacemaker without the use of batteries.  Canan calls her invention a "wearable pacemaker" which is a thin film that converts the energy released by the movements of the heart, diaphragm and lungs to electrical energy, and stores it.
Canan said the following: "The heart is vital to all humans and beats 40 million times per year.  I wanted to design a flexible device that would be attached to the surface of the heart to convert its mechanical energy to electrical energy, and I succeeded.  Although conventional cardiac pacemakers have useful lives varying between 5 to 7 years and have to be replaced by a risky operation, these pacemakers generate all the energy they need to run, and eliminate the necessity of multiple pacemaker operations.  I wanted the heart to be self-sufficient and the device to be harmless to the heart.  My design obtains the energy it requires from the body."

We congratulate our graduate and wish her further success in the future.
Alumni Relations Office
02164839352
alumni@sabanciuniv.edu